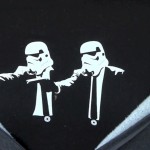 Diese Woche mit:
- Die Pandas sind los
- Alle Jahre wieder ein neues Applegate
- Blizzard mit größerer Schrift
- SWTOR Patch 1.4
- Mass Effect 1 endlich für die PS3
- StarCraft 2 PvP for free?
- Wenn Stormtrooper Pulp Fiction schauen
The video cannot be shown at the moment. Please try again later.