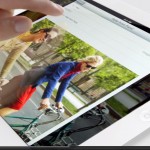 Weil heute anscheinend Tablet Tag ist, quetsche ich auch noch den neuen Apple Werbespot für das neue iPad hier rein. Die Amis dürfen ihn bereits genießen und es ist wohl nur eine Frage der Zeit bis der komplizierte Text im Werbespot ins Deutsche übersetzt wird:
Send a note
Stay informed
Catch a show
Make your point
Make a memory
Make a masterpiece
Read something
Watch something
And learn something
Do it all more beautifully
With the retina Display
On iPad
The video cannot be shown at the moment. Please try again later.