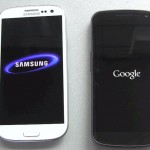 Samsung Galaxy S3 vs Galaxy Nexus Bootrennen
Ich weiß, ich weiß, wer braucht so was, schaltet ja eh keiner mehr aus, aber es zeigt auch die Power der unterschiedlichen CPUs. 1,4Ghz Quadcore mit aufgesetztem Samsung UI gegen 1,2Ghz Dualcore mit reinem Android.
The video cannot be shown at the moment. Please try again later.